Introduction: The seller and the seller, the enemy is extremely jealous when they meet...
Believe in the word "follow seller", every seller is familiar with it, and it is commonplace to fight with the seller. Under the premise of the official permission of Amazon, follow-up behavior is not uncommon, and some sellers can't escape the fate of being follow-up even after doing brand registration.
Recently, an Amazon seller suffered malicious follow-up sales. However, the seller had a very "rigid" attitude towards follow-up, and directly sent a "threatening email" to follow-up.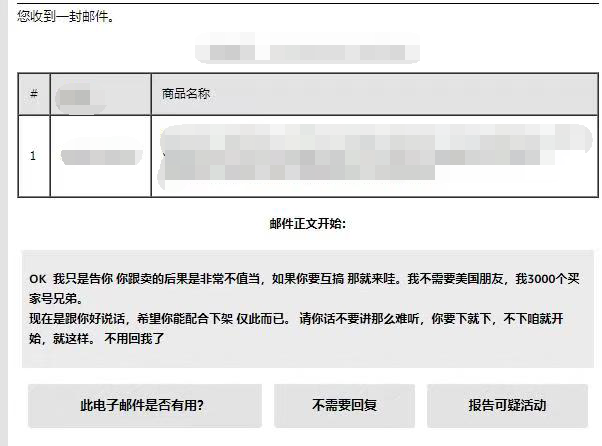 The content of the email showed that a Bluetooth headset from his shop was followed for sale. This seller is not as helpless or confessed as other sellers who have encountered and sold, but directly threatened: "I have 3000 buyer brothers, I hope you will cooperate with you to remove it, otherwise we will start doing it. "Sellers who know and sell should know the deterrence and effect of these 3,000 buyer numbers.
The usual method of co-selling is to use the purchase order to send a complaint to the seller: second-hand goods, fake goods, and false shipments, to force the seller to remove the product, and then follow the seller to take over the seller's listing. In the face of this rogue behavior, it seems that the victimized seller wanted to take the same crackdown method to force the product to be sold off the shelf.
The editor can't help but sigh that this seller is very domineering. However, I still want to remind sellers that not all sellers can have such "strength", and avoiding follow-up sales is the top priority. Sellers can prevent follow-up sales by registering their own brand trademarks, modifying listings from time to time, and attaching gifts.
In fact, in the cross-border e-commerce market, malicious competition behaviors such as follow-up are everywhere. For example, listings are spoofed and sensitive words are added to become dogs.
The editor found that sellers often cry in cross-border e-commerce seller forums and seller groups: listings have been spoofed, and a large number of listings have been removed...
Spoofing listing behaviors are generally malicious competition among peers in the industry, deliberately tampering with opponents' listings, adding various sensitive words such as "adult products" and "prohibited goods", and banning products on the platform, leading to forced removal of the other's listing.
After listings are added with sensitive words and removed from the shelves, it is very troublesome. Not only is the appeal process lengthy, but the listings returned from the appeal may be downgraded and the sales volume will be much lower than before.
At present, all kinds of chaos in the cross-border e-commerce industry are rampant, and sellers must be cautious and be fully prepared to deal with various "rogue acts."